Join us in honoring the world's humanitarian organizations on World Refugee Day
---
20 June, 2022
World Refugee Day is an international day designated by the United Nations to honor refugees around the globe. World Refugee Day is also an occasion to honor the world's humanitarian organizations, recognizing their tireless and professional emergency aid for refugees. – Emergency aid that we are proud to service as a supplier of humanitarian aid.
It's obvious that we must react quickly when we receive an urgent request for emergency supplies from a humanitarian organization. As a ship chandler, we are adaptable and flexible – competencies that we use every day servicing the world fleet. It's the ability to arrange for the supply of goods to be delivered at any given time. We are proud to have cooperated around humanitarian aid for more than 30 years and highly respect the hard work the organizations do for the world's refugees.
Making it happen
Overnight, we succeeded in packing and supplying 1,200 emergency aid boxes for basic household needs, and mid-May we had in total supplied 100 pallets.
Local and global purchasers play a big part, and their commitment to procure exactly what is needed, is impressive.
Our colleagues in the warehouse co-operate efficiently to make these supplies possible. During a weekend, eight persons will in average be packing 400 boxes – and spirits are high every time. "I enjoy the bustle around the packing of the emergency aid boxes and find it rewarding to help out", says Stuart Rushton, Warehouse Assistant in the Aalborg warehouse.
Facts
Earlier, we supplied up to 17,000 emergency aid boxes a year, but recent years, the flow of refugees to Denmark has been at a minimum.
We usually keep a stock for the packaging of 2,000 boxes
On a regular basis, we supply boxes for children in deportation centers every two weeks. Here, we make sure to include nutritious snacks such as fruit spread, nuts, fruit, and juice – but also sweets and chocolate.
---
The emergency aid boxes are available as both single and family boxes.
Typical contents include: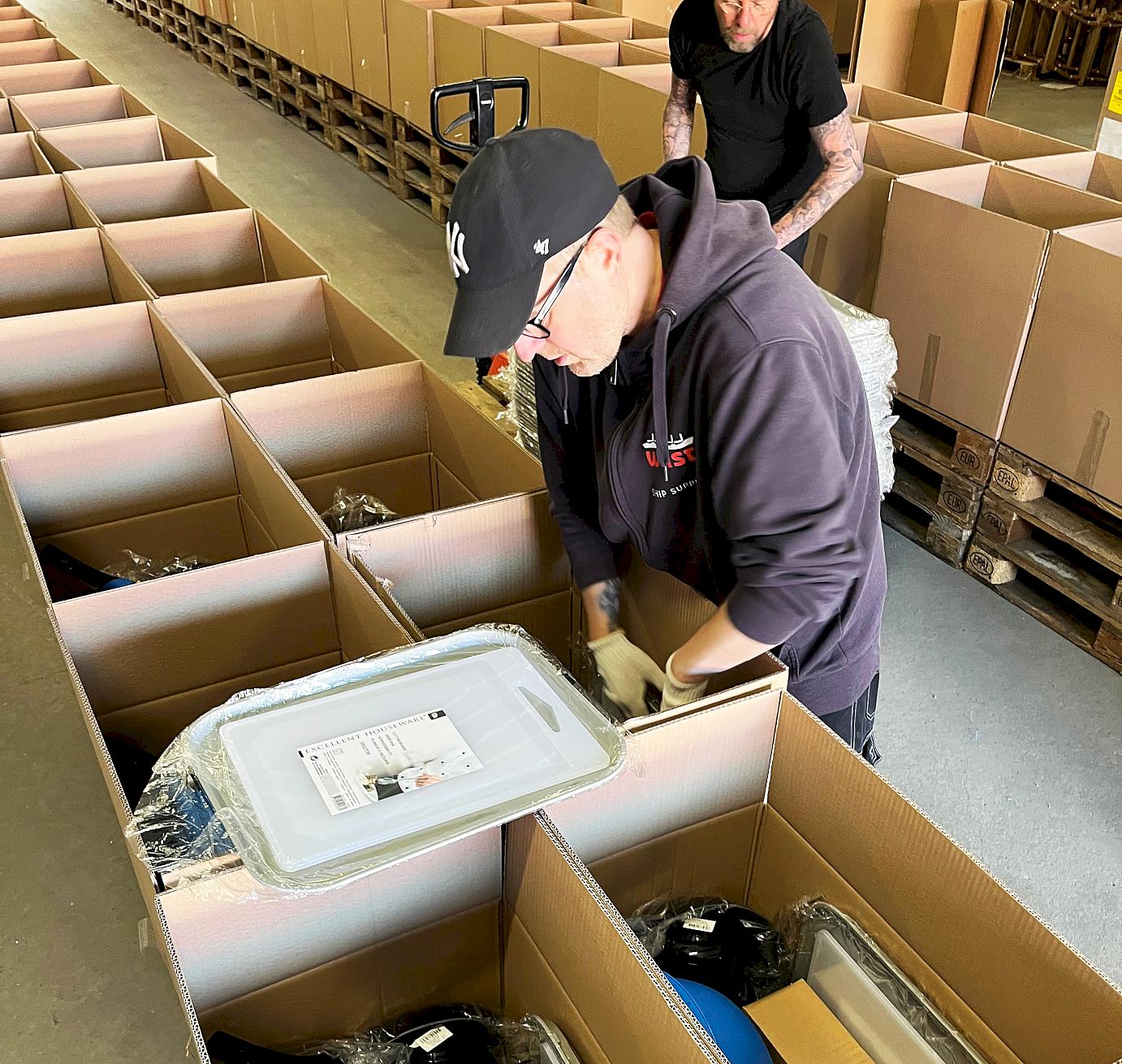 Pots and frying pan
Kitchen knives
Scissors
Tin opener
Whisk
Palette knife
Cooking spoon
Rolling pin
Mugs
Chopping board
ColanderFreezer storage boxes
Ovenproof dish
Roasting pan
Jug
Kettle
Thermos
Tray
Washing-up bowl
Dish brush
Kitchen cloths


---
EARLIER THIS YEAR: