Wrist Ship Supply sets a bigger footprint
---
12 November 2014
More domicile capacity and 6 new addresses are brought into use by Wrist Ship Supply by the end of 2014.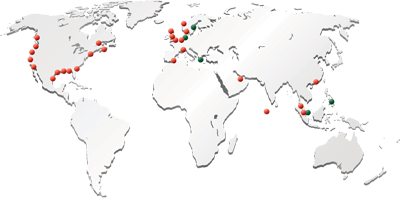 Red dots: Wrist hubs
Green dots: Representative offices
Growth in turnover has made moving into bigger premises a necessity. Thus Singapore began the year in a new domicile increased by 60% in size. The branch in New Orleans quadrupled its size in May and Rotterdam doubled in July. 
Latest, West Coast in Long Beach more than tripled its size - an exercise that Montreal will repeat next month.
In all branches the changes have led to improved capacity when it comes to space, efficiency, equipment and processes optimised – an important part of our HACCP/ISO commitment.
We don't stop here as expansions in warehouse and office capacity is planned for both the branch in U.A.E. (Sharjah, Dubai) and Spain (Algeciras).
We are happy to service our customers from these upgraded platforms, and believe it will give us a bigger competitive edge.
EARLIER THIS YEAR: